International Cycles, Treks, Half Marathons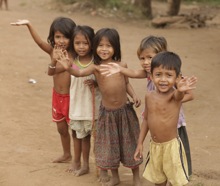 PROJECT FUTURES international challenges are a sure fire way to challenge your mind, body and soul. We combine a fun, motivational challenge (cycle/ trek/ marathon/ fundraising) with an educational initiaitve (raising awareness for human trafficking and sexual exploitation) and bring it to life by taking you to the frontlines of the projects you are fundraising for on an international level.
To date our international activities have been raising funds for The New Somaly Mam Fund - Voices fro Change in Cambodia. Our funds are directed towards the organisations centres in Cambodia that have been running since 1994 and was founded by international activist and former child sex trafficking victim, Somaly Mam. The centres focus on recovery, training, education and reintegration of women and children forced into the sex industry.
Please go to our website for more information on challenges during the year http://www.projectfutures.com/events/cycles/